Residential Conveyancing Solicitor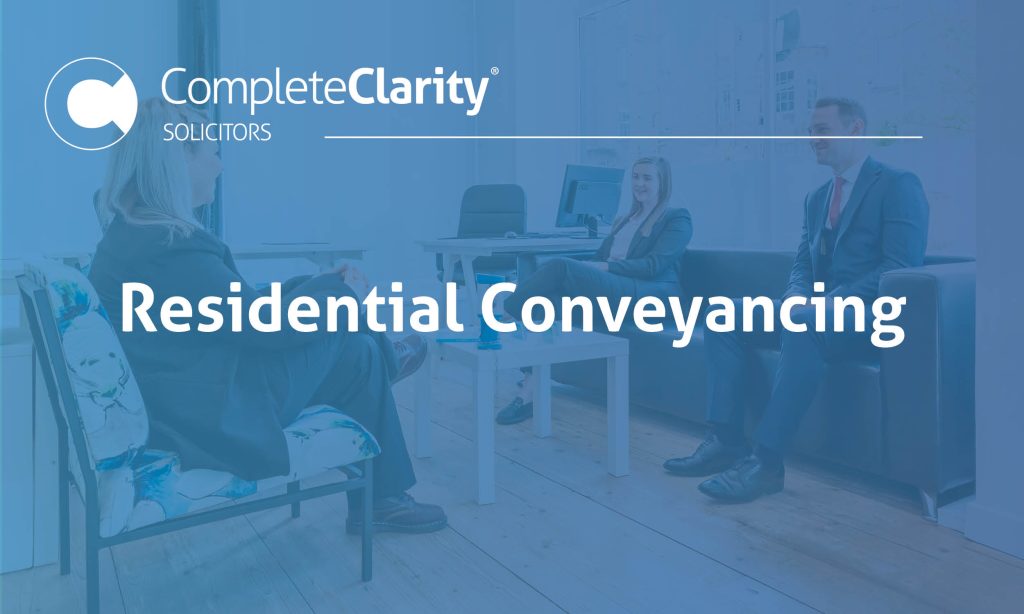 For many years, Clarity Simplicity has helped clients buy, sell, and remortgage their homes and investment property in Scotland. To guarantee that these procedures go without a hitch, it takes this level of conveyancing expertise, in addition to local knowledge and a proactive attitude.
Call us or visit our office to discuss your needs if you've decided to purchase a new house, sell your current residence, or refinance your mortgage. One of our fully licensed real estate solicitors or conveyancers will oversee your transaction for selling your home or buying a property and serve as your main point of contact while providing you with expert assistance. Using the advantages of contemporary technology, we will provide you with professional and effective service without sacrificing your personal touch.
Get In Touch
We are here to help. Get a free quote today and experience hassle-free conveyancing in Scotland. Based in Glasgow, East Kilbride, Edinburgh and Dumfries, Complete Conveyancing Solicitors is one of Scotland's most dynamic law firms.
Buying residential property in Scotland
It is not unexpected that the real estate market has a reputation for being challenging to get into, given the ever-growing cost of homes and deposits. To make sure your acquisition remains viable and on course, once you have put in the effort and located a property that matches your objectives, it is crucial that you obtain the appropriate legal counsel. We can help, whether you are a first-time buyer, buying a buy-to-let, or purchasing a second property.
The legal aspect of your home purchase — transferring ownership of the property from the seller to the buyer — is handled by your conveyancing attorney. We will: as part of our thorough service.
do a local authority search and other pertinent searches;
provide advice on and help you negotiate the best conditions for the purchase agreement;
assist you with all title issues; and
control the contract exchange and progress of the project.
Buy-to-let
We are able to help investors with their buy-to-let needs. We have a broad spectrum of expertise in buy-to-lets, from advising those making their first investment to offering legal counsel to investors with substantial property portfolios spread across several jurisdictions.
Sell a property
What do you do after you start getting offers and interest in your property? Property owners who are perplexed by the conveyancing process frequently contact us. Clarity Simplicity will carefully walk you through each step, lay out all your options and what they imply for you, and keep you informed the entire time. After all, this is your transaction, therefore you should maintain ownership of it.
We will offer a thorough service when you hire us to sell your house. Your attorney will:
Advice on the best offer and buyer should be given.
A draught contract should be prepared, and the terms should be negotiated with the buyer's attorney.
Finally, the exchange of contracts and completion stages should be managed.
Remortgaging
We can help, whether you are remortgaging to release equity, save money, or because you are moving. In Barnes and Chiswick as well as other parts of London, we have a wealth of experience working with clients who have remortgaged their homes. Your committed remortgaging attorney will pay attention to your needs, walk you through the process from beginning to end, and make sure you are kept informed. We offer the following remortgage conveyancing services:
making sure the deeds are in order,
offering advice on the terms and conditions of the new mortgage, and seeing to it that the required paperwork is completed and witnessed;
managing the previous mortgage's repayment and filing the new mortgage with the Land Registry.
Contact us right away if you need assistance with remortgaging your house.
Our approach to residential conveyancing process and services: Property law
You can trust the following when you ask Clarity Simplicity to handle your residential real estate transaction:
A fully qualified solicitor will oversee your transaction from beginning to end;
you can easily contact your solicitor and will receive a rapid response;
you will know upfront what our fees will be; and
we will take proactive measures to fix issues as they arise and prevent delays.
Residential Conveyancing Solicitors in Glasgow
As residential conveyancing solicitors, our role is crucial in ensuring that our client's property transactions run smoothly. From buying and selling to remortgaging, we handle all aspects of property law, including conveyancing fees, estate agent liaisons, stamp duty inquiries, lender communications, and legal fees. Our residential conveyancing team is dedicated to providing expert legal services, making use of modern technology while maintaining a personal touch. We understand that the value of the property involved can be significant, so we take great care to provide clear and concise conveyancing quotes upfront so that our clients are fully aware of the costs involved. Whether dealing with freehold or leasehold properties, our experienced property lawyers are committed to offering a thorough service to our clients, providing advice and support throughout the entire process.
Contact us today
Contact our property solicitors today at 0808 169 7033 and make buying or selling a property an easy process!